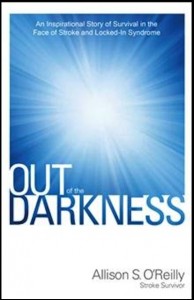 My inspiration for writing "Out of the Darkness" was to share my experience. I am just an average person and if it can happen to me, it can happen to anyone. Locked-in Syndrome is very rare, occurring in 1% of strokes and the outcome is usually not good. I was very lucky… so to speak.
I am trying to make something good come out of this nightmare. I had a massive stroke and the book shares my will and determination to fight for my life and independence.
This is the story of my miraculous recovery in the face of enormous odds, the task of relearning everything, the overwhelming challenges, and the lessons I learned about myself when faced with adversity. Having a positive attitude and surrounding yourself with encouragement is most important.
I want survivors, caregivers and the medical community to look at stroke patients by what they can do or their potential, not what they can't do.