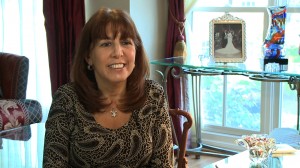 My name is Allison O'Reilly and I'm a native Washingtonian. In 2010, at age 49, in what should have been a normal weekend, my life changed forever. I experienced a brain stem stroke that put me in a Locked-In Syndrome. Until the stroke, I was an active woman engaged in a career, family and the challenges of daily life. In an instant, I went from Director of Marketing of a Fortune 100 company to a life struggle to regain my independence and self being. I am sharing my inspirational story to provide first person insight to the medical community and family members to instill hope in other stroke survivors. I live in McLean, Virginia, with my husband, Kevin of 22 years.
Two weeks prior, I had just had a clean bill of health. I am just an average person and if it can happen to me, it can happen to anyone. Do you know the identifying symptoms of a stroke? I didn't.
My book is a story of inspiration, love and hope, as well as, sharing lessons learned during a devastating time. You can really learn a lot about yourself when faced with adversity.
It is a personal look at the overwhelming challenges of a brain stem stroke, the painstaking process of relearning everything, the meaning of patience and the responsibilities that fall to a loving husband who wants the best possible treatment for his wife.
You never know how people will react to a tragic event. Will they rise to the occasion or step away?
Have you been affected by a stroke or another unexpected, life-changing illness or know someone who has? How did you get through it?